Mario Panizzut was born in Venice on July 22nd 1968.
As a little child he was already interested in bells and at the age of three he went for the first time up the Saint Mark's Belltower along with his father Giuseppe.
Since that time his great passion for bells starts. To his eyes those bells look at once magnificent and spectacular and he gets on with each one of them in a special way. As he says: "it is as any of them has always something new to tell every time I hear it ringing".

Graziano, Gianni, Stefano, Maurizio, Alessandro, Massimo, Davide, Gina and Felice are the guardians taking turns at the belltower during the 80's. Between them and Mario a special friendship develops.

It is school time for Mario and he often goes to the belltower after school and starts his observations and recordings, first rudimentary, then more precise, with the help and support of the bell-guardians.
Thanks to their reciprocal confidence he can climb up to the top of the belltower to let the bells ring, especially during holydays. He also studies ancient works, placed at his disposal by the "Procuratoria di San Marco" and the "Biblioteca Nazionale Marciana".
During this period Mario starts to write his first book where he gathers all his notes, to be improved and updated as time goes by. He is also not short of fantasy and he can also draw quite well, so he enriches his texts with free-hand drawings, sketches and schemes, all of which in pencil or hardly ever pastels.

His interest is not limited to Saint Mark's bells, but he also expands his studies to other bells in Venice, always asking the priests (even if some of them were often reluctant) to climb up the belltowers to detect some information or inscriptions.

This was a mutual favour because Mario, being the only one to get to the belfries not as a tourist but as "the friend of bells", could constantly keep the priest updated about the condition of bells and their mechanic in general.
At the end of the 80's Mario is aware of two very important activities, the only bell-foundries operating in Veneto: Foundry "Colbachini" in Padua and "De Poli" in Vittorio Veneto.
Thanks to the collaboration of the respective owners (Mr. Giovanni Aldinio-Colbachini for the former and Mr. Ettore Marchesin for the latter) and workers, his knowledge improved considerably, by discovering even some secret peculiarities to such an ancient and fascinating work as the art of melting is.
Now that this analysis and classification work has gone to be complete and thanks to modern technologies, the whole material has been digitally transferred to make the approach to this original and unusual subject more accessible to anyone.


Some drawings by Mario as a teenager

Photo Gallery
Venice Bells - Photo Gallery
| | | | | |
| --- | --- | --- | --- | --- |
| | | [1] | 2 | | | |

Videos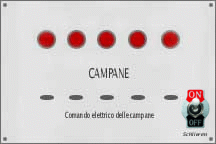 The real sound of St. Mark's Bells
You can start the bells using the player above (It may take a few moments to load the file)